Learning
Discover how SimQuest can give the students freedom to experiment including the coaching they need for learning.
Authoring
SimQuest allows instructors to author existing simulations to their own needs. You can also create your own simulation easily by using the extended library of SimQuest.
Simulations
Several SimQuest simulations are freely available for use in your classes.

Projects
Several projects use or have been using SimQuest for developing learning materials. You can get more information about the Servive project , the GeDOS project, the SILO project, and the EPN project.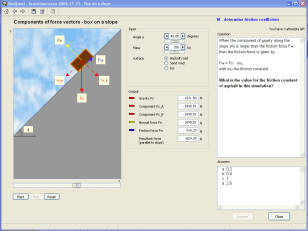 Download
SimQuest is freeware. You can download the latest version on this website.
Contact Info
The designers of SimQuest always like to know your comments or answer your questions.


News
15-04-2011
SimQuest 6.4 is out now.
SimQuest 6.4 includes improved animations, graphs, and sqzx (xml) output.
Download SimQuest here
SimQuest help system online
(English and Italian)